Bonjour Cheries, international natural dye expert Kathryn Davey has given us this lovely recipe for dyeing and decorating eggs with beautiful botanic prints. Kathryn creates her own gorgeous products and works with fashion houses such as Apolina Kids.
Creating naturally dyed eggs is a fun and satisfying activity to do either as a DIY project to wind down into the slow lane on your own or with the family. (It's something we do need to to be careful with as it requires boiling water)
Using and learning about natural dyes is a beautiful art because it helps us understand in an easy way nature and science – the mysterious and wonderous properties of our botanic world ~ how we can use them to colour our clothing, our linens and Easter eggs without harmful residues or toxins.
Dyeing eggs involves taking previously boiled eggs, creating a natural dye bath, decorating the eggs, and adding them to the dye bath. Before you start you will need to cut & measure a set of old tights to see how much space you will need to wrap the eggs and tie them securely.
I used yellow onion skins for this activity but to experiment with different colours you could also try making a dye from red cabbage, red onion skins, turmeric powder, coffee granules or frozen blueberries,
To dye your eggs you will need:
Yellow onion skins from 10-15 onions (or whichever dye you choose to work with)
Pot
Wooden spoon
Sieve
To decorate the eggs you will need:
Previously boiled Eggs
A selection of small leaves or flowers
1-2 pairs of nylon stockings
Scissors
String or elastic bands
A small bowl of water
Making the dye bath
Take the onion skins and place these in a medium-sized pot.
Cover with hot water and simmer gently for 45 minutes to an hour.
When the water changes to a yellow-orange colour, your dye is ready.
Turn off the heat, strain out all the skins and set the pot aside to cool while you work on your eggs.
Creating patterns for your Easter eggs
Take your eggs and carefully place small leaves or flowers face down onto the egg. You can use your fingers to apply a little water to help the leaves stay in place.
Take a section of the previously cut nylon tights, tie a knot in one end then carefully wrap the nylon around the egg, keeping the leaves or flowers in place and secure with a knot, string or elastic bands. The stocking should wrap securely around the egg to keep the foliage in place.
Repeat this with all of the eggs and gently place them in the onion dye.
Return to the heat and simmer very gently for 30 minutes, turn off the heat and leave them overnight for more defined patterns.
The next day, remove the eggs from the dye and rinse.
Remove the tights & very carefully peel the leaves from the shell, then leave to dry.
Voila, you have created naturally dyed eggs with botanic prints. Use as a table decoration, as gifts or as part of an Easter egg hunt!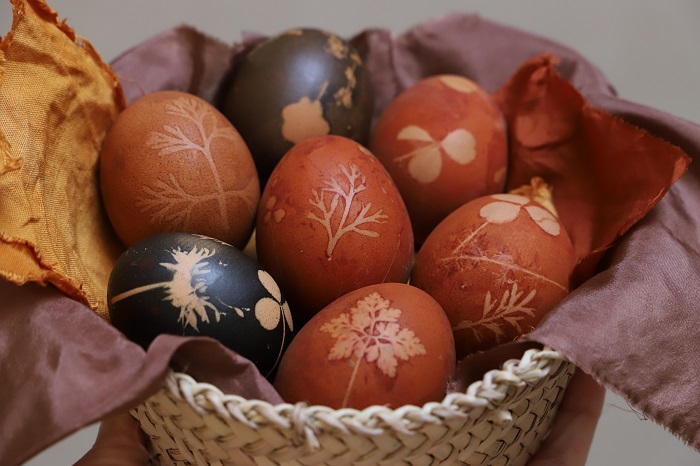 About Kathryn Davey
Based in Dublin, Ireland,
Kathryn Davey
has a sustainable design studio handcrafting naturally dyed homewares & accessories. Kathryn uses natural plant extracts to hand-dye everyday, 100% natural fibre goods. The process eliminates harmful waste created by modern synthetic dyeing, making her products free from harmful toxins, gentle on the earth & easy on your eye.
Kathryn teaches how to access a world of natural colour through workshops, e-books, e-courses & a monthly studio membership. Visit Kathryn's website to simply be inspired by the beauty of her work and to find out when her next online classes are. Follow Kathryn on Instagram for a constant source of beautiful naturally dyed inspiration.