There is a delicious secret to this beautiful one-pot, easy mouth-watering French Olive and Lamb casserole, which can be also served vegetarian.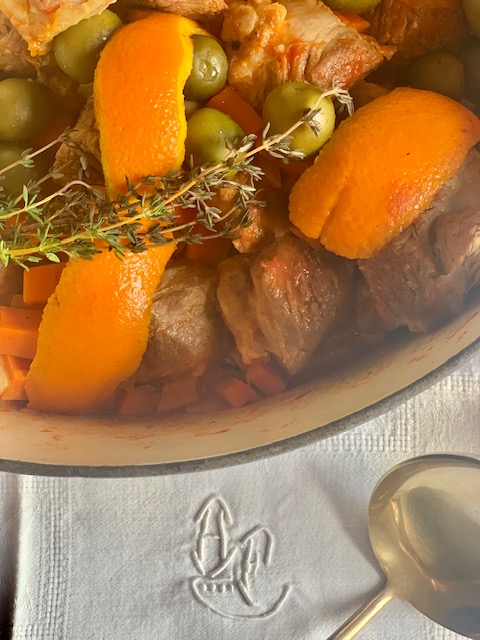 The beauty of the French Olive and Lamb Casserole is that it is a perfect mid-season meal that can be dressed up for a more formal occasion, or simply served in a rustic way for every day meals. For a delicious vegetarian option, swap the lamb for zucchini. This gorgeous vegetable will mop up the juices, become exquisitely textured and create a mouth watering version of the casserole.
The secret of this casserole is in the orange – both orange fruit, and orange in the carrot. Both add a light, delicate warm flavour that make this casserole unique. The recipe is inspired by the masterful and pragmatic French chef Gabriel Gate.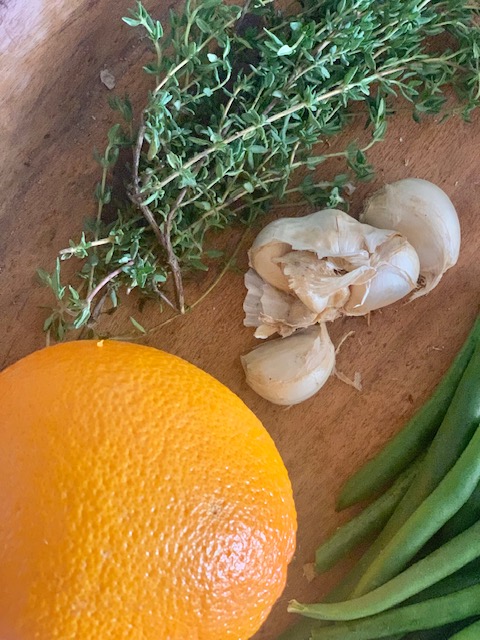 Ingredients for French Olive and Lamb Casserole
1 kilo of deboned lamp shoulder (or leg if shoulder not an option), cut into rough cubes
(For the vegetarian option add 4 to 6 good sized zucchinis)
Salt and ground pepper
3 Tablespoons olive oil
1 teaspoon butter
2 medium carrots diced
1/2 medium onion diced
1/2 tablespoon concentrated tomato paste
150 ml white white
2 cloves garlic crushed
4 x 5m strips of orange peel
Handful of green olives (no need to pit unless you prefer)
300 ml of chicken stock or vegetable stock or water
1 large tomato, diced
Sprig of thyme
1 bay leaf
Garnish with grated lemon zest if you wish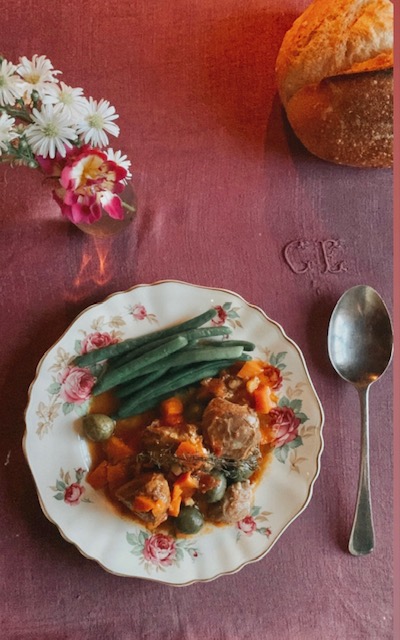 To make the casserole
Preheat the oven to140 degree Celcius (275 degree Farenheit
Season lamb with salt and pepper. Heat oil in an ovenproof casserole dish and brown the lamp over a high heat.
Add the butter, then carrots, onion, and stir for a few minutes.
Stir in tomato paste. Add the wine (be careful as it will bubble up), bring to the boil. Add the garlic, orange zest, olives, stock or water, tomato, thyme and bay leaf. Stir well and simmer. Cover the casserole with baking paper, cover with a lid and bake in the oven for about 3 hours or until meat is tender. If using a zucchini option, check after 45 mins to an hour.
Garnish with lemon zest, salt and pepper if you like and serve with crusty bread.
Voila, bon appetit.
Find beautiful French table candles and jewels at Little French Heart.