The latest colours from Paris are warm like rosewood, marigold, honey and burnt orange. With such a rich earthy and versatile palette, it's easy to create the most beautiful bedroom style for your darling on any budget as shown by stylist Jess Farthing.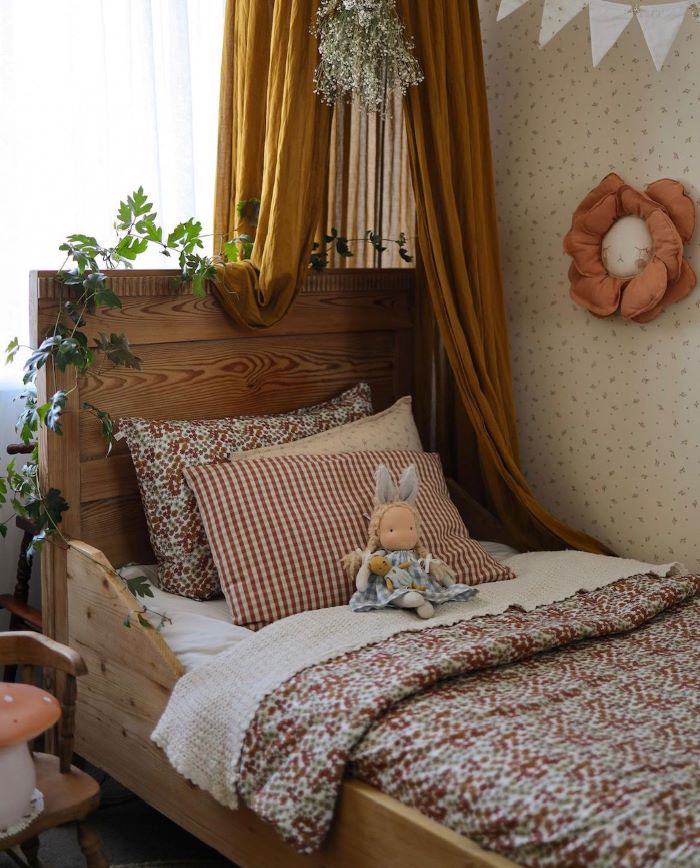 Colours of rosewood, marigold, ginger, gold, honey, ivory, with pops of blue create a sweet warm ambiance for your child's room. Right now, these colours and tones are being favoured for Spring and Summer by designers in Paris and Europe because of the warmth and strength they emanate.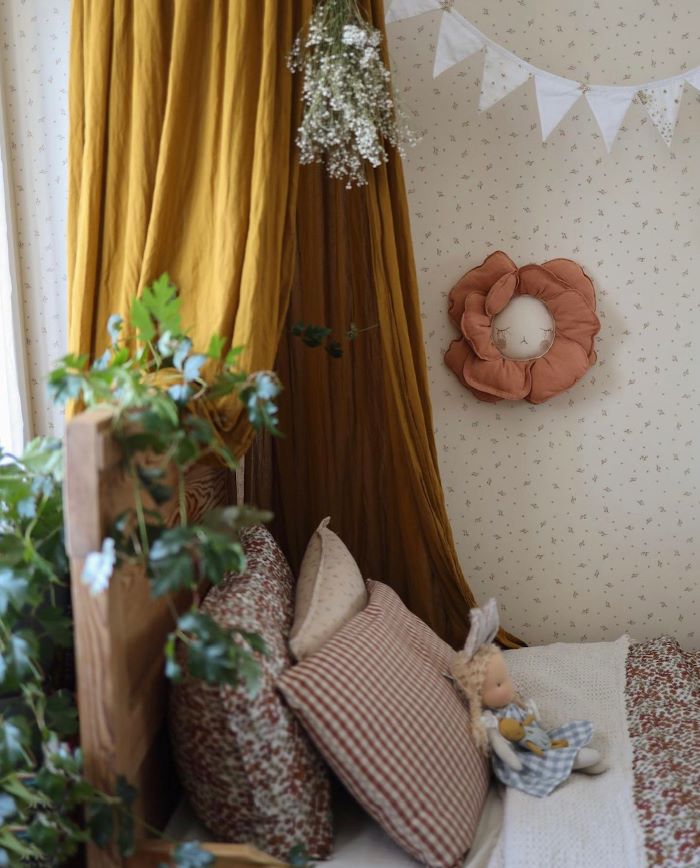 The base note of rosewood brings a sense of blush and softness to the richer marigold and rusts tones. Add flower decor like the Boramiri Paris Marigold dream flower, a canopy of gold and little frills or lace in lighter ivory and white shades and you have a pretty feminine style with botanic essence. Add wood furniture, rattan and richer tones like the vintage bed and gingham brique cushion by Gabrielle Paris and your child's room takes on a raw, earthy feel.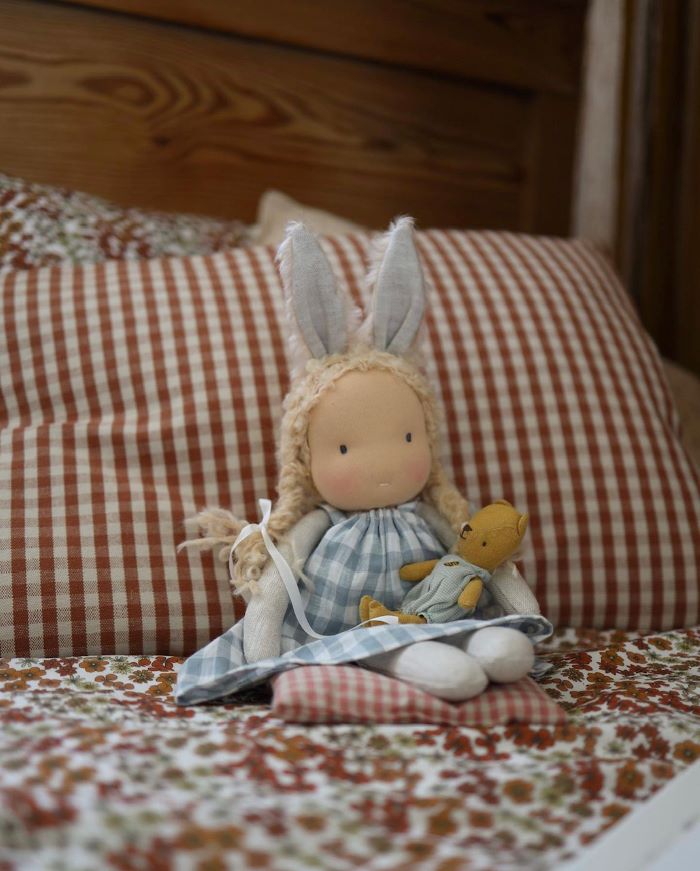 The quilt prints of Bois de Rose (or Rosewood), by Gabrielle Paris stocked at Little French Heart, give a deeper nurturing feel to the bedroom, and can be offset with lighter prints in ivory and blue. Here we have a sweet doll by Poems for Buttercups in a blue checked dress to lift and highlight the amber tones. A Maileg bunny in blue check dress could also create a similar feel. Adding a toy such as a lion or even simply gold, blue check or solid blue cushions can also create a beautiful contrast.
Simple garlands like those stocked at Little French Heart beautifully contrast with the warm tones and create a sense of joy and fun.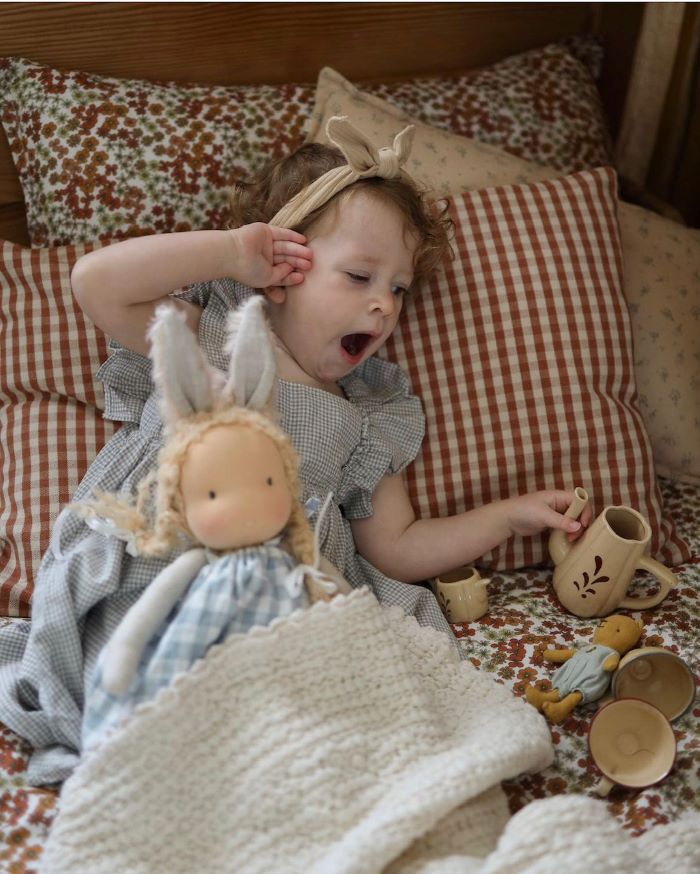 Adding little trinkets, and textures such as our Konges Slojd Tea Sets, things that promote curiosity and imagination for your little one, also adds charm. Your darling's room becomes a haven and a space for them to grow, learn, wonder and all the while feeling safe and loved.
Textures from different fabrics such as the waffle blankets from our New Grain Goods also create a sense of warmth and nurturing, familiarity and traditional style.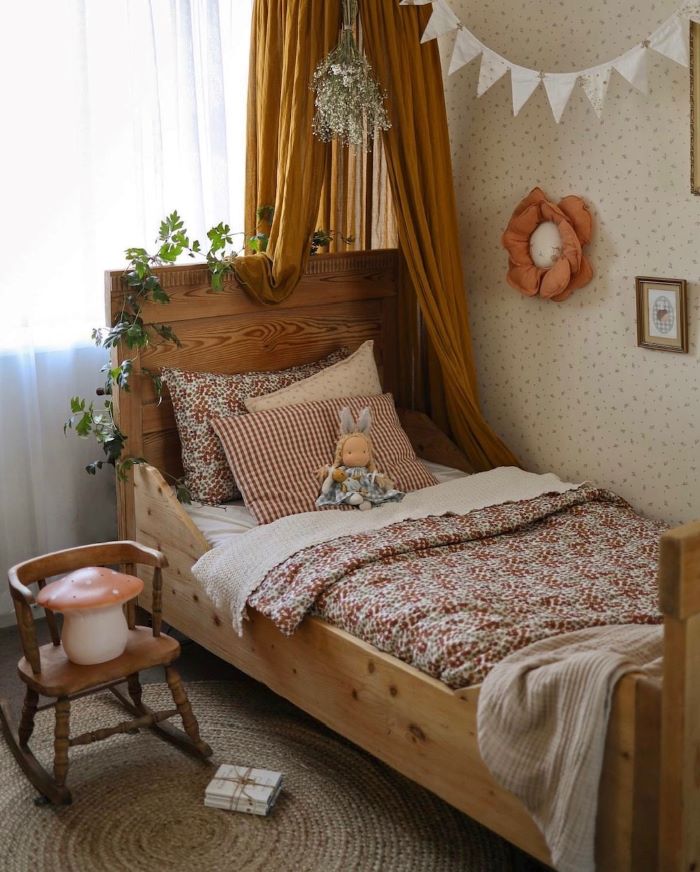 At Little French Heart I am always trying to find new ways to help you create whimsical beautiful spaces for your children that you absolutely adore.
With thanks to stylist and Mum Jess Farthing for creating something beautiful out of a thought.