If you happen to be in Paris now you may wish to amble over to the classic Le Marais district to see a romantic art exhibition Watercolours by ManonBoudoir being held at the beautiful Hotel Caron de Beaumarchais.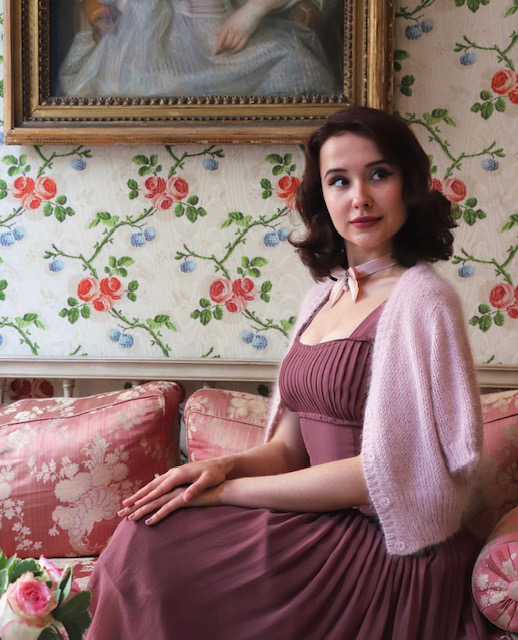 About the artist
Julie is a published artist and creator of @Manonboudoir, an online boutique consisting of whimsical illustrations which focus upon Manon, the fictional character dreamed up from Antoine Francois Prevost's novel, Manon Lescaut (1731.)
The illustrations are reminiscent of a Parisian daydream, plucked from the court of Versailles, Julie depicts Manon in an array of illustrious scenarios, which range from dreamy scenes by the Eiffel Tower, ballerinas in delicate tutus, decadent desserts from Laduree, and more!
\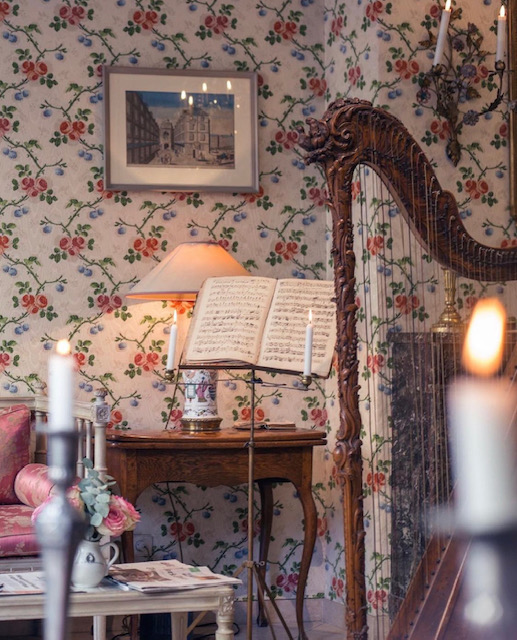 About the Parisian Hotel Caron de Beaumarchais
Nestled upon the Rue Vieille-du-Temple, the Hotel Caron de Beaumarchais offers a wistful escape from the bustle of the right bank. Delicately adorned with rose-bud wallpaper, ornate furnishings, gilded chairs and cabinets, the hotel appears as a 18th-century boudoir, an environment for beauty, courtship and pleasure. Julie recreates this idyllic vision through the excursions of Manon, a beautiful and effervescent lady who is accompanied by her cat Gigi (reminiscent of Collette's novel.)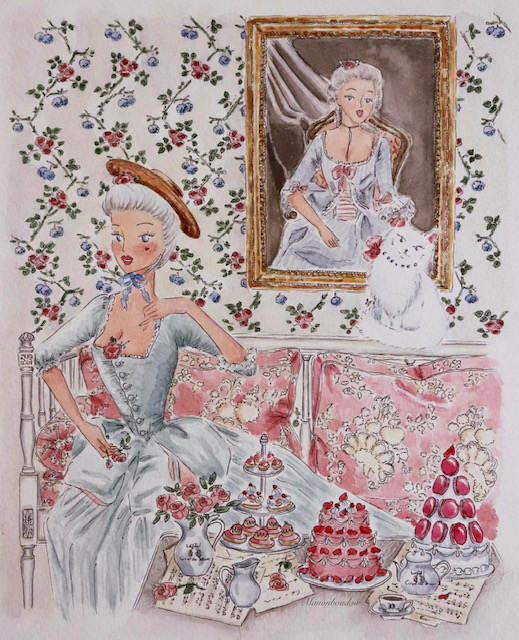 About the exhibition ~ a little Parisian dream
A never-ending fête and an arcadia of pleasure is invoked as Manon and Gigi (the cat) embark upon their exploration of the Hotel Caron De Beaumarchais' hidden delights.
Imagine reclining upon a sumptuous, petal pink chaise lounge. Julie clothes Manon in an icy blue silk robe a la francaise, surrounded by delicate patisserie as she ponders a selection of sheet music for this evening's entertainment.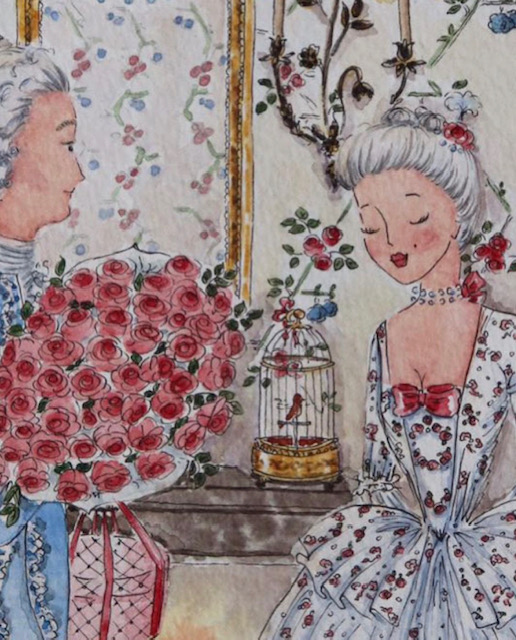 "Love in the afternoon", as the Parisians proclaim, is in bloom as Manon receives a beautiful bouquet of delicate pink roses from her suitor, blushing in admiration and gratitude inside a dimly lit boudoir. The exchange of lovers' vows and gifts is followed by an evening of entertainment in the salon, an environment where Manon displays her musical proficiency on the harp as she delights her guests. After an engagement filled day, the Hotel Caron offers Manon and Gigi an elegant/soothing retreat.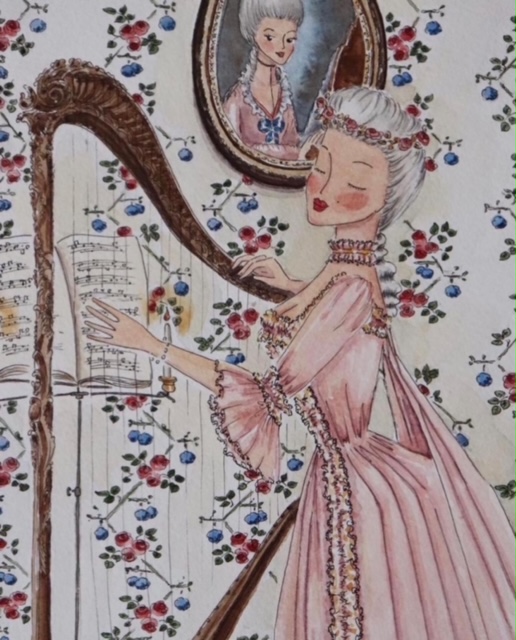 Restored to an intimate boudoir adorned with rococo interiors, Manon powders and prepares herself for an evening at the Opera Garnier to watch The Sleeping Beauty. At the end of their visit, seated comfortably on their balcony, Manon and Gigi absorb the beautiful Parisian architecture surrounding them whilst sipping sparkling champagne.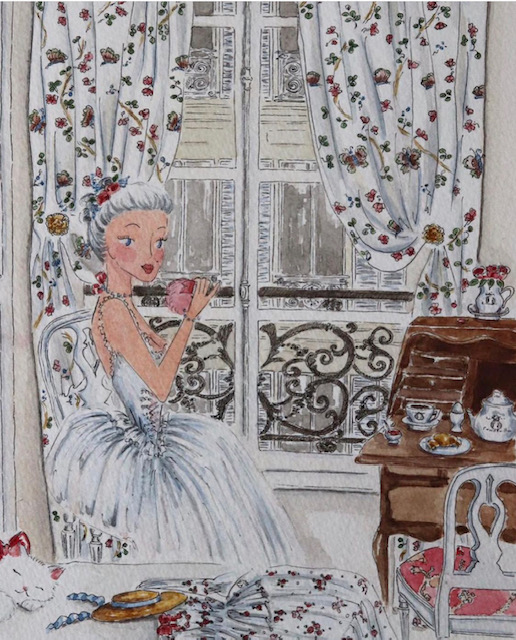 Images courtesy of Manonboudoir & Hotel Caron de Beaumarchais